Paintings

The space between objects has always fascinated me. The idea that everything is connected and yet nothing is solid. String theory suggests the fundamental description of nature and I strive for a visual equivalent. Painting some of the underlying structures that we cannot see with drips of blue or red, covering over an object and partially rendering it again. Back and forth until something new emerges.



---
© Copyright 2015 Mark Hunt. All artwork is the property of Mark Hunt and may not be copied or reproduced without the artist's permission.
---
Powered by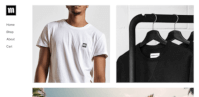 Create your own unique website with customizable templates.